Lobos and TCU Battle to 1-1 Draw
Aug. 17, 2012
Albuquerque, N.M. --- Liz Nare picked a fine time for her first collegiate goal, heading in a free kick from Rachel Montoya with 11:20 to go to force a 1-1 tie. Overtime was necessary, but Mother Nature had other ideas. A massive lightning and wind storm hit just before overtime started, and the game was declared final after a 62 minute wait.
The game was New Mexico's second straight season-opening tie, as UNM tied Saint Mary's 1-1 in double overtime last year.
The game was a stalemate through the first half, with each team having one solid chance. UNM's came early when Elba Holguin bent a shot from the left side outside the box that TCU keeper Vittoria Arnold leaped up and corralled. TCU had a brilliant chance late in the half after a free kick got loose inside the 6-yard box. Maddy Courvoisier's shot was blocked on the line by a host of white-shirted Lobos, and the rebound went right to Monica Alvarado. Somehow Alvarado's shot was saved by Cornell, who was prone on the ground, earning a huge ovation from the 1,384 in attendance.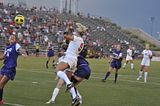 The second half saw the pace pick up, and each team scored on a set piece. TCU got on the board first when Kelly Johnson headed home a perfect corner from Makenzie Kock. Johnson beat Cornell and another defender for the goal with 20:59 to go. UNM eventually had an answer.
Natalie Jenks was fouled about 30 yards out, and Rachel Montoya's free kick found Nare about 12 yards out. Nare, who had never recorded a point in her first two seasons playing as a defender, nailed the back-side netting with a picture perfect header for a 1-1 tie. Neither team mustered much after that and it was off to overtime. Or so everyone thought.
"I think we had some great moments and some really good possession. They played a low pressure and we haven't seen that in a really long time. They were trying to take our tempo away from us and we were a little impatient," said head coach Kit Vela, whose squad didn't play an exhibition game this season, meaning the TCU game was the first action for the Lobos this year.
"We had a low level of frustration and I think in second half we learned from that and did a little bit better. We are trying to find ourselves offensively and we knew that, but we didn't have an exhibition game. This technically was our exhibition game in a way."
With both teams on the pitch and ready for the first overtime, lightning hit the area and forced a delay. Eventually, heavy winds came through and knocked down the advertising panels and the new covered benches. After nearly an hour, the weather looked to break and both teams came out to warm up. Just before the start of overtime some 62 minutes later, another bolt of lightning hit and the game was called a 1-1 draw.
The game marked the first time in the 20-year history of UNM that a game ended in a tie after regulation, and regardless of the outcome, Vela was happy with the lessons learned as UNM ran its unbeaten streak in home openers to six at 3-0-3.
"Every game is a build up to where you want to go, so 1-1, 0-0 it wouldn't have mattered. Overtime, no overtime ... we are taking every minute as we play as a learning lesson to where we want to go."
The Lobos have no time to get complacent as the squad gets on a bus for a semi-quick trip to Lubbock to face the Texas Tech Red Raider, who are 1-0-0 after nipping Idaho 2-1 in Lubbock.
"I think we had a little bit of the momentum before the storm came, but overtime is a funny thing anyway with the golden goal and that sort of thing. For us, we have to get on the road on Sunday, and for the next three weeks."
NOTES: UNM was 0-3-1 last season when its opponent scored the first goal ... the official time of the delay was 62 minutes ... due to lightning UNM conducted its post-match stretch and media opportunities in the Indoor Practice Facility ... UNM is now 20-3-4 in the last three years at home ... Dylann O'Connor was the only freshman or sophomore in the starting lineup ... Sinead Fleming, a senior, made her first career start ... three Lobo rookies saw their first collegiate action: O'Connor, Cassie Hanson, and Annie Wheeler.